Madrid car rental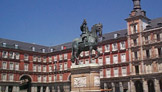 Madrid car rental compares the prices of different car rental suppliers like Hertz, Avis and Europcar and finds the cheapest fare for your rental in Madrid, Spain. Rent your car in Madrid and visit the beautiful surroundings of one of the most important cities in Spain. Car rental in Madrid Barajas airport as well with the latest model cars like Smart, Citroen C1 and luxury cars like BMW and Mercedes.
The airport
The Madrid airport (MAD) is located 9km off the downtown and is one of the world's biggest terminal areas. The airport name comes from the contiguous district of Barajas. The Madrid airport is connected with the Madrid Metro – Line 8 and the EMT bus Madrid Municipal Transport. You may find a big airport parking as well. Inside the airport you may find approximately 30 bars, cafes and restaurants and more than 100 shops.
AEROPUERTO DE BARAJAS, S/N, 28042 Madrid, Spain
Car rental
AeroCity-Ares Mobile: 917 477 570
Avis car hire: 913 480 100
Hertz car hire: 915 097 300
Europcar: 917 226 200
Must see in Madrid
The Royal Palace of Madrid, Paseo del Prado, Santiago Bernabéu Stadium, Canalejas Square and the Almudena Cathedral.